24-30 GHz Up Down Converter
Aethertek 24-30 GHz up down converter is designed for 3GPP n257, n258 and n261 applications and testing solutions. The wide IF range allows the user to transit 2.6~5.8GHz IF signal to 24~30GHz RF signal with excellent EVM performance and ultra low frequency error. The 24-30 GHz up down converter also supports several LO input modes for different applications and instrument sync-up requirements. It is also an ideal alternative choice on cost reduction to replace the expensive high-end mmWave instrument.
One entity frequency Up/ Down conversion for IF-RF transition
Excellent EVM performance with ultra low frequency error
Integrated TX and RX mode to simplify the cable connections of the testing station
Innovative S21 parameter measurement feature for an alternative cost-efficient testing solution
Easy production line setup mode to reduce the installation time and effort in mass production
Specifications

RF frequency range

26.5~ 29.5GHz (3GPP n257 band)

IF frequency range

2.6~ 5.8GHz

Internal LO adjustable range

5.4~6.6GHz

Internal LO frequency resolution

100MHz

External LO input range

5.4~6.6GHz

Conversion gain

8dB@TX
5dB@RX

Output P1dB@28GHz

5dBm

Input IP3

10dBm

Operating voltage

DC 6V

Operating current

1A (Max)

Connector type

2.92mm SMA for RF
3.50mm SMA for IF and LO

Dimension

L160mm x W80mm x H30mm

Weight

Operating Temperature

-0~+40 in Celsius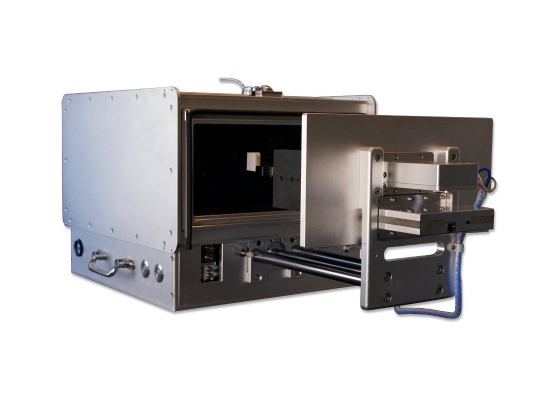 Pneumatic RF shielding boxes are essential for reliable RF testing devices such as Mobile Phones, Bluetooth, and WLAN.
Find the best solution for your project now.